by davros » Fri Jun 05, 2009 4:45 pm
Gents (and any ladies that may be lurking in the beautiful game!),
Any predictions for this week's match against Qatar? 3-0 the 'roos? 2-1 Qatar (I recall them beating England back in the World Youth Championships in 1983 in Sydney). Or perhaps a large amount of money to be deposited into an off-shore bank account (either way!) to make it "interesting"?

Maggie's Pacifier
Joined:
Mon Aug 20, 2001 3:19 pm
Posts:
3
Karma:
none
Location:
Somewhere just short of sanity


by mr_walker* » Sat Jun 06, 2009 11:39 am
I reckon Verbeek will have them playing a conservative brand of football to ensure the point we need to be the first team to qualify. It will be a low scoring game.
I predict 1-0 to Australia or a 1-1 draw.
Carl Carlson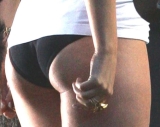 Joined:
Fri Dec 07, 2001 3:23 am
Posts:
602
Karma:
156.81 (944 thanks)
Location:
No longer in a queue at Centrelink.


by lupusrex » Tue Jun 23, 2009 12:29 am
Pim and the team got the job done, but now we have to focus on the World Cup. Its not the biggest football event in the world for no reason, the best teams in the world come together to compete for History, Pride, Hope, the love of the World Game. I understand that great football development cannot happen in only a couple of years, but we must start thinking with an attacking and productive mind. I thank Pim for not including Viduka in the squad as although he has been signed with an english club for some time now, he has not been able to produce for the soccerros convincingly. And that is what we need, to be recognised as a power in Asia and world football... RESULTS, GOALS. We need to score, plain and simple, our defense is great but we don't have the class of the Italians to defend and then viper the opponent with gay counterattack goals and dives in the box. I know the young kids nowadays are really practising their technical ability, but we need to set the example for them, now. WE NEED TO SCORE. Fair enough, this is our second world cup in 30 something years, but we need to act now. Why do you think Brazilians are so good at football? It's because they FEEL it, they don't think about it, they got rythym, they treat the ball like a woman, carress it, and play with it, love it to the death.
Otto Man
Joined:
Sat Mar 21, 2009 12:38 pm
Posts:
794
Karma:
58.94 (468 thanks)


by oli150194 » Thu Sep 24, 2020 2:58 am
I have faith we will get the job done! I reckon we will play very conservatively and then try grab the points towards the end
Snowball
Joined:
Wed Sep 09, 2020 9:10 pm
Posts:
5
Karma:
20.00 (1 thanks)