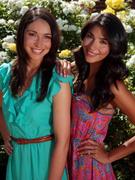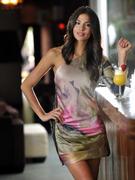 Don't forget Postcards tomorrow at 5.30pm !!
Start your engines
* Emily Power
* From: Herald Sun
* March 06, 2010 12:00AM
* Increase Text Size
* Decrease Text Size
* Print
* Email
* Share
o Add to Digg
o Add to del.icio.us
o Add to Facebook
o Add to Kwoff
o Add to Myspace
o Add to Newsvine
o What are these?
PIA Miller will add a touch of class to the squeal of tyres and the smell of scorching rubber at the Formula One Qantas Australian Grand Prix.
The popular model and TV presenter, the face of the event, joined former driver and Grand Prix Motorsport ambassador Cam McConville to show off the hottest looks by White Suede to set alight the circuit-side bars and party hot spots.
Like the Spring Racing Carnival, the Grand Prix at Albert Park is the place to be seen in Melbourne in autumn.
A glittering list of celebrities, including yet-to-be revealed international guests, will join Miller in the exclusive Paddock Club during the March 25-28 event.
"Behind the scenes you get a lot of celebs hanging out with the teams," Grand Prix media manager Laura McLachlan said.
"With Formula One comes glamour, and it does bring the glamorous people of Melbourne to the event. Pia is a local girl and she is gorgeous."